Rent a boat in Altea
Renting a boat in Altea offers a variety of advantages and opportunities to enjoy the Mediterranean Sea. Some of the reasons why renting a boat in Altea is an excellent idea include:
Access to stunning and uncrowded beaches: With a boat, it is possible to reach remote and hidden beaches that are difficult to reach on land, and enjoy a unique experience in the middle of nature.
2. Exploring the coast of Alicante: The region boasts a wealth of hidden bays and coves, as well as several beautiful natural sites, such as the Peñon de Ifach Natural Park. Renting a boat allows visitors to enjoy these breathtaking views from a unique perspective.
3. Water sports: The region has excellent conditions for sailing, water skiing and other water sports, and renting a boat allows visitors to practice them
4. Relaxing by the sea: Spending a day at sea, enjoying the sun and the coastal scenery, is a perfect way to unwind and relax.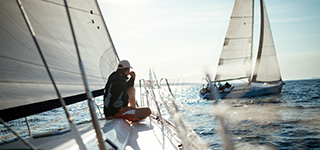 5. Great offer of boats: Altea has a great offer of boats for rent, from small boats for one day to larger boats for several days at sea. Therefore, it is an excellent choice for any type of traveler.
Altea is a coastal town located in the province of Alicante, in the autonomous community of Valencia, Spain. It is known for its picturesque old town and its marina, which makes it an ideal place to go sailing. The Mediterranean Sea surrounding Altea is generally calm, with gentle winds and crystal clear waters, making it an ideal place for sailing or motorboating. In addition, the town has several yacht clubs and sailing schools where you can rent boats and take lessons. In short, Altea is an excellent place to go sailing due to its warm climate, mild winds and beautiful coastal views.